Game streaming is the new hot topic of conversation. The giants of the tech industry are gearing towards a future free of any hardware that sits near the TV. The future, as these tech giants see, is one where games can be streamed on any device via power of the internet, forgoing requirement of any setup.
Google is one key player that is working towards that future. Today at GDC 2019, Google kicked off its keynote by unveiling it's game streaming service called Stadia. The very same "Project Stream" that underwent public beta last year in October now has an official name. Google has more to add today.
Game Streaming and Connected Experience Across Devices
As you'd expect from a game streaming service, Stradia allows you to play on any device with a Chrome web browser. In CEO Sundar Pichai's words, the goal is to build a "game platform for everyone". So, regardless your device, you can play AAA titles like Assassin's Creed: Odyssey without the need of expensive hardware.
Access to game streaming is instant. For example, Youtube videos for games can now include the option to "Play on Stradia". Clicking on which instantly pulls you into the game. Google is building an ecosystem around Stradia, Chrome, and Youtube. Google is in a unique position to pull off a socially connected experience. Afterall, they own one of the biggest video streaming platform on the planet.
Phil Harisson, who is now one of the leading figures leading Google's game streaming project, demoed Stadia on-stage. The demo involved a Chromebook, Pixel 3 smartphone, and a TV hooked up with a Chromecast.The highlight of the demo was how effortlessly and instantly you can resume your gameplay sessions between these devices; it picks off where the player left off.
A New Controller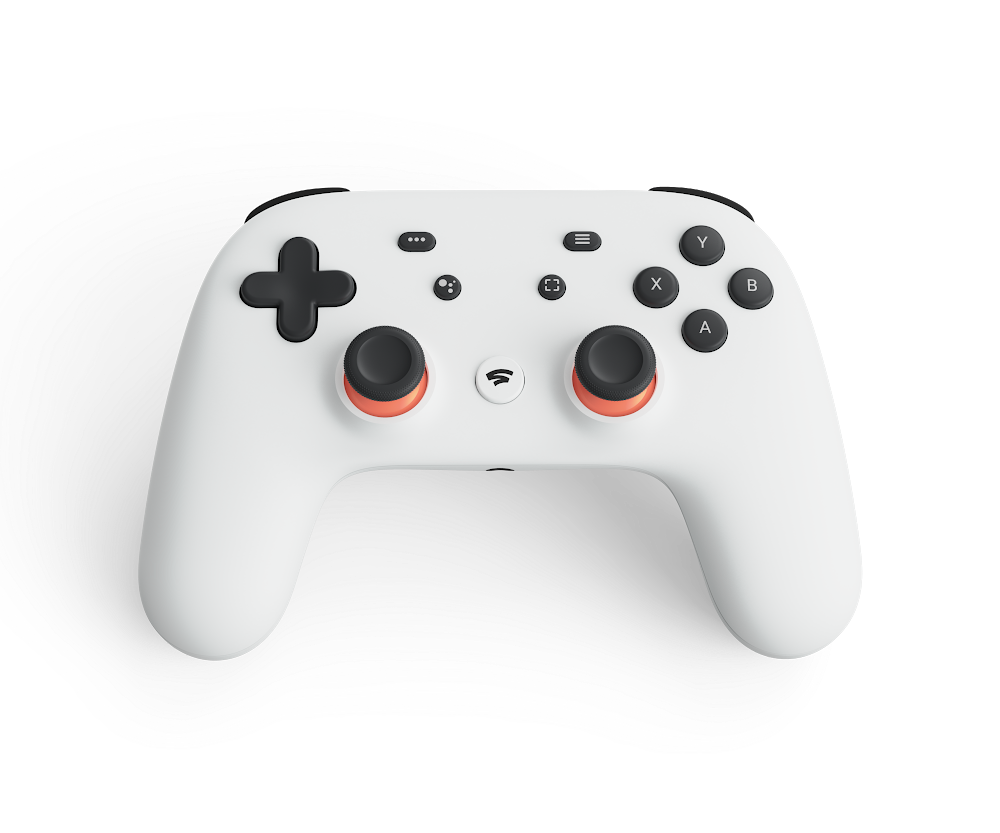 Stadia is not a console. It requires nothing but an internet connection, a device running Chrome browser, and an input device. For the last requirement, Google has introduced its own game controller called Stadia Controller.
The controller sports a white finish and looks quite simplistic in form. There's a capture button on the right which lets you record moments in up to 4K resolution and a Google Assistant button to the left which can be very useful. Google demoed how asking Google Assistant for information during gameplay it was able to pull up videos of the game on the user's request of "How do I beat this tomb?" in the case of Shadow of the Tomb Raider.
Investment in Exclusives
Google is not leaving the new service to third-party developers alone, it's pushing investment in building first-party exclusives. Led by Jade Raymond, Stadia Games and Entertainment studio is tasked with delivering exclusive experiences that will make strong case for subscribing to Google's service.
Jade Raymond is most known for her work on Assassin's Creed and Splinter Cell when she worked at Ubisoft. She now leads Google's new internal studio after her departure from EA Motive late last year.
"Our teams will also be working with external developers to make all of the bleeding-edge Google technology you've seen here today available to partner studios big and small"

Jade Raymond
Google clearly has two veterans leading its new initiative. Phil Harrison previously held senior leadership at Sony Interactive Entertainment and has a long history in pushing the PlayStation brand in Europe.
Under the Hood
The first demo under Project Stream banner was limited to 1080p at 60fps but Stadia will bring 4K at 60fps streaming. Google says that it will be possible to stream in 8K in the future, Stadia is built to scale.
And surprise, surprise! Google is partnering with AMD to deliver Stadia's underlying datacenter hardware. Each Stadia server includes the following specifications:
CPU
Custom x86 Processor @ 2.7 Ghz
Hyperthreaded
AVX 2
GPU
10.7 teraflops
56 compute units
HBM2
Memory
16GB RAM
Up to 484GB/s transfer speed
9.5MB L2+L3 cache
Google hasn't shared how many cores are in the CPU. On the GPU side, it looks be a Vega 56 GPU.
The hardware is well above what the current-generation of console offer – including Xbox One X. And Google was quick to draw that comparison. It gives us an idea of what to expect from the next generation of consoles since Stadia will be competing against them in the future. Stadia will run on Linux and the Vulkan API.
Google did not talk about any subscription plans today but we can expect the service to be out before the year's end. Now that Google has played its card, there are heightened expectations from Microsoft to match or outperform Google's Stadia.
Microsoft recently confirmed that trials for Project xCloud will be held this year, no specific date was given. For now, Google's vision for the future of gaming looks bright even if at this point an overwhelming majority of the people are held back by their internet connection or prefer playing on local hardware or